War
Saudi Arabia Beheads 5 Foreigners. 80th Beheading In 2015 Sparks Outrage
12.05.2015 | 00:43
On May 6, Saudi Arabia beheaded five foreigners and hung their corpses from helicopter to set an example
On May 6, Saudi Arabia beheaded five foreigners and hung their corpses from helicopter to set an example. The executed men were identified as Khaled Fetini and Ibrahim Nasserm from Yemen, Hassan Omar from Chad, Salem Idriss from Eritrea and Abdel Wahhab Abdel Maeen from Sudan. They were guilty of murdering an Indian guard and stealing his money; the punishment was meant to deter others from committing such crimes.
The five migrants were executed just a month after Amnesty International condemned the "macabre spike" in state-sanctioned killings. Amnesty's 2014 global report on the death penalty ranked Saudi Arabia among the top five executioners in the world. Saudi Arabia executed 88 in 2014, and after the recent beheading, the figure has touched 80 in 2015.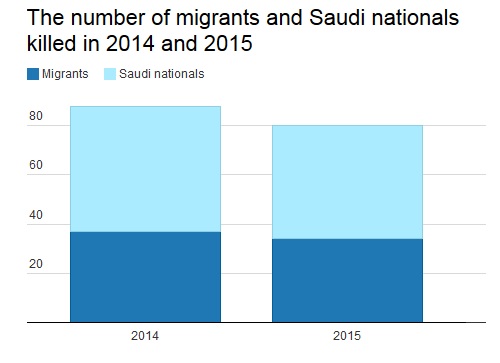 Amnesty's UK head of policy and government affairs, Allan Hogarth accused the Saudi government of indulging in a "judicial killing spree", describing the number of executions being carried out as "frightening". "There were some tentative hopes of human rights reform when King Salman bin Abdul Aziz Al Saud came to the throne earlier this year, but these have now been completely crushed," he said.
inside_article
Amnesty's director of Middle East and North Africa programs, Philip Luther added, "The first months of his reign have been marked by an unprecedented wave of executions in a clear signal that the use of the death penalty is thriving in the Kingdom. Any hopes that the arrival of King Salman might herald an improvement in human rights in Saudi Arabia have been crushed".
Amnesty's Saudi Arabia researcher Sevag Kechichian told AFP that while one can hardly affirm what has been driving these staggering numbers, the current rate "has been truly unprecedented".
Adam Coogle, a Middle East analyst for Human Rights Watch, told The Independent, "Amnesty is absolutely correct in describing the spike as 'macabre'. From January to the end of July 2014 there were 15 executions, but they finished 2014 with 88, which shows clearly that the spike began last year and has continued".
Saudi Arabia plans on beheading human rights advocate Sheikh Nimr soon. Tweet about it. Maybe we can save his life. pic.twitter.com/E4gnUhXZPh

— Rana Harbi (@RanaHarbi) May 7, 2015
Why is @hrw silent about the planned beheading and execution of #nimr by the oppressive #SaudiArabia regime? — peaceintruth (@peaceinthetruth) May 8, 2015
#Saudi authorities sentenced #SheikhAlNimr to death in the form of beheading. He should be saved. https://t.co/lIJaBzgZB6 #FreeNimr

— Yusur AlBahrani يُسر (@YusurAlBahrani) May 8, 2015
Beheaded for theft? Spike in Saudi Arabia executions by beheading triggers outcry from #humanrights campaigners http://t.co/3ZS5jpgUh6 — Jon Hutson (@jonhutson) May 8, 2015
#SaudiArabia human rights record is atrocious. Beheading ideology been exported for years. World is feeding a monster with weapon supply.

— Jamila Hanan (@JamilaHanan) May 1, 2015
Rape, murder, apostasy, armed robbery and drug trafficking are all punishable by death under Saudi Arabia's version of Islamic sharia law.
Print version
Articles
It's Official – UK Admits "Human Rights" No Longer a Priority of British Foreign Policy
Not that they ever were, but they've finally decided to be honest about it. Which to be honest, is pretty scary.
Over Half of E.U. Countries Are Opting Out of GMOs
Sixteen countries have alerted the European Union that they want to opt out of E.U.-approved GM crops.
Proxy Wars: U.S. to arm Kurdish and Arab fighters in Syria
President Obama has decided not to directly confront Russia over its new air offensive in Syria, believing that President Vladi­mir Putin will soon find himself in a Syrian "quagmire," but he has approved...
Oregon Shooter's Links To Military
Cops Rupture Handcuffed Man's Spleen, Laugh at Him, Take Pics as He Lay Dying and Begging
U.S. Politicians Are Asked About Saudi Atrocities... Here's What Happened Next
AMERICAN jihadi is 'top ISIS commander': Yazidi slave reveals that she was beaten and held captive by US citizen who directs attacks and keeps vial of poison to kill himself if he is caught