Breaking News
Edward Snowden Spotted In The White House!
29.04.2015 | 03:45
Edward Snowden is not in Russia – according to Google Maps, the NSA whistleblower is residing in the White House!
Edward Snowden is not in Russia – according to Google Maps, the NSA whistleblower is residing in the White House! A Google Maps loophole allowed Bryan Seely, who campaigned against Google Maps loopholes last year by making fake listings for the FBI and the Secret Service, to put Edward Snowden in 'Edwards Snow Den.'
In addition to the listing for the fake establishment, a snowboard shop, there was one cCross law firm listed as being located in the West Wing. The US Department of Treasury was showing that it was home to Freddy Frazbear's Pizza – a typo version of Freddy Fazbear's Pizza, the fictional setting of indie horror game "Five Nights at Freddy's."
But how is it possible? How could someone so easily create a fake listing and get it verified by Google? This is how 'Edwards Snow Den' ended up in the White House (with a Seattle-area phone number, no less):
You create a business in Google Maps at an address where you can receive mail and with a phone number you can receive calls at. You get Google to send you a verification postcard to the address. Once the business is verified, you delete it from your account. Then you use another Google account to claim this, now orphaned, business. You gain control over it by doing the verification via phone. Once that's happened, you're free to move the business to anywhere you want, change the name and/or alter other details.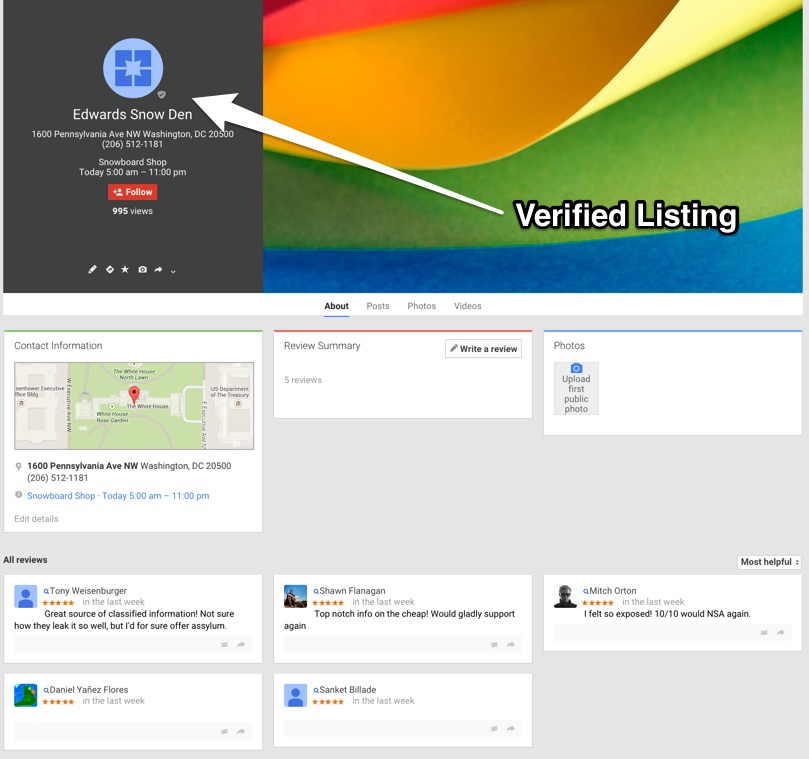 In its mobile app and on the browser version, Google was showing a business listing for 'Edwards Snow Den' in the middle of The White House, thanks to Seely who changed the location of a verified business listing after it went live on Google Maps.
Marketing Land reports that the fake listing, claiming to be a real snowboarding shop, actually originated as a real, verified business listing on Google that allowed people to add reviews. Google has since removed the verified status of 'Edwards Snow Den' and deleted the joke reviews.
inside_article
Print version
Articles
It's Official – UK Admits "Human Rights" No Longer a Priority of British Foreign Policy
Not that they ever were, but they've finally decided to be honest about it. Which to be honest, is pretty scary.
Over Half of E.U. Countries Are Opting Out of GMOs
Sixteen countries have alerted the European Union that they want to opt out of E.U.-approved GM crops.
Proxy Wars: U.S. to arm Kurdish and Arab fighters in Syria
President Obama has decided not to directly confront Russia over its new air offensive in Syria, believing that President Vladi­mir Putin will soon find himself in a Syrian "quagmire," but he has approved...
Oregon Shooter's Links To Military
Cops Rupture Handcuffed Man's Spleen, Laugh at Him, Take Pics as He Lay Dying and Begging
U.S. Politicians Are Asked About Saudi Atrocities... Here's What Happened Next
AMERICAN jihadi is 'top ISIS commander': Yazidi slave reveals that she was beaten and held captive by US citizen who directs attacks and keeps vial of poison to kill himself if he is caught